Basic
Name: Sarah Plonka
Age: 16
Location: Michigan
Sex: Female
Sexual Orientation: Straight

Favorite
Bands: The Casualties, Rancid, Mindless Self Indulgence, Nofx.
Songs: Nofx-Bob, Rancid-Ruby Soho, Imp Villains-I Dont Need Your Fucking Pill
Lyric: My Dicks A Bong Baby.
Movies: Drop Dead Georgeus(cant spell sorry)
Television shows: Simpsons Or Drawn Together
Activities: Hangin With Friends
Word: Cunt
Color: Orange
Texture: Leopard
Smell: Pheonix Axe.
Year/time period: Midevil. I Love the Dresses.

Your views on
The world: Its A Luvly Place At Times.
Dinosaurs: I Love Dinosaurs. <3 <3
Pre-Marital sex: It's Your Decisons.
Animal Testing: I Think Its Digusting. And wrong.
Legalization of drugs: Well. It Would Make Drugs Alot Easier To Get.. But It Would Be A Stupid Decision. To Many People Would Get Addicted.
Today's 'pop' music: Stupid. I Wish It Would Go Away.
Live Journal rating communities: Mean. Lol But Sometimes Funny.
Television: I Love The Television
Uniqueness: Not Many People Are Uniqe. When You Try To Hard.. Your Just Like Everyone Else.
School: Stupid. But I Gotta Go.

Other
If you had to learn another language what would it be and why?: Polish. Im Part Polish And It Seems So Intresting.
If you had to live anywhere in the world where would it be and why?: England. I Love People From England. And The Boys With English Accents <3.
If your parents kicked you out of your house and you couldn't go to a friends house where would you go and why?: A Car If I Had One. Or I Would Live At Salvation Army In Detroit.
If you were stranded on a desert island and you could only bring three things, what would they be and why?: Ellen. Mildred. And A Hott Guy.
Tell us something about yourself that we should know: Im Obsessed With My Ninteno 64 And Gameboy Advance.
If you had only 24 hours to live, what would you do? and why?: Proally Tell Everyone I Love Them. And Party It up. Say Whatever I Wanted To Say To Anyone And Not Care Who I Hurt.

Name the first thing that comes to mind when you hear the word
Dinosaur: Hott<3.
Sunglasses: Dinosaurs
Coffee bean: Icky.
Shoot: Bang.
Punk: The Villians
Emo: Cutter
Indie: Bohemian
Metal: Head Bang.
Pop: Gay.
Weasel: Pop.
Poop: Lucas.

You must promote us to two communitys/people or a combination of both. And tell us who they are.

http://www.livejournal.com/users/syko52/124726.html?view=238390#t238390

http://www.livejournal.com/users/obijuankobain/6489.html?view=39513#t39513

Now its time for pictures! Post as many as you like.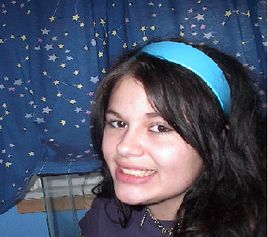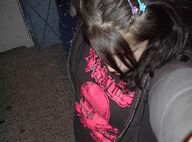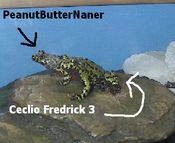 My Frogs. I Love Them<3.

Any last words?

I Am Goin To Make A Dinsosaur shirt. And Im Gunna Where For 872386425 Days In A Row!